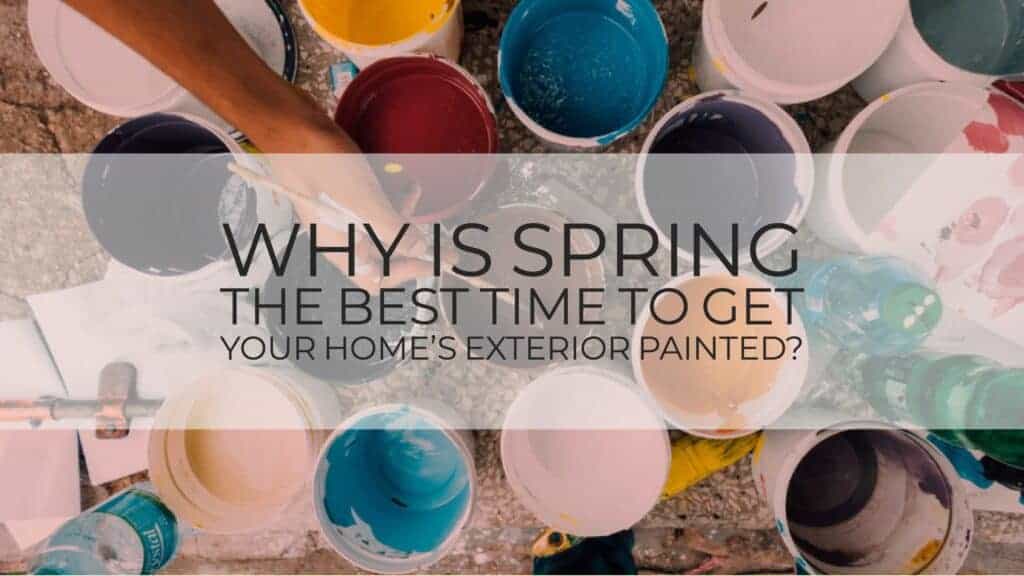 For many, Spring is a favorite season. It marks the time where we shed our winter coats, discard items we've been hoarding, flowers bloom, vegetation restores and the days get longer. Spring often symbolizes rebirth, rejuvenation, resurrection and regrowth. But did you know spring is also the best time to paint the exterior of your home? If you're considering remodeling your home or preparing to sell it, spring is a cost-effective way to make a big difference. Just be sure to wait until the weather cooperates with you.
Spring Temperatures
When the weather cooperates? As if that isn't an oxymoron in and of itself, but the temperature is one of the most important factors to consider when the time comes to paint the exterior of your home. You want to avoid painting your house when temperatures dip below 40 degrees as most paints will not hold up under those kinds of temperatures. You'll also want to avoid painting in extreme heat. When temperatures rise above 85 degrees, paint dries too quickly resulting in paint clumps and visible brush marks once dried.
Avoid Dramatic Temperature Shifts
Not only do you want to paint during moderate temperatures, but you also want to make sure to avoid dramatic shifts in temperatures. You know, the hot days but as soon as the sun goes down, temperatures plummet?
Gear Up For Summer
Considering the factors already mentioned, you may be thinking fall makes a great time to paint the exterior of your home, but what follows fall? Winter. And with winter comes snow. Once you invest in painting the exterior of your home, you won't want to cover up your beautiful, brand new paint job with winter's elements. Plus the moisture that comes from snow, ice, frost, rain and high humidity causes paint to swell and soften, which eventually leads to cracking, blistering, flaking, and peeling. Moisture conditions also support the growth of mildew. Spring makes nature shine at its brightest, making it the perfect backdrop for your home's paint job. Plus, chances are you'll want to show it off. Prepare for pool parties, barbecues and summer outings by painting the exterior of your home during spring.
Spruce Up Curb Appeal
Perhaps you're considering selling your home? If you've already thought about selling your home, you know the spring season is a great time to put your house on the market. Doing so further increases your chances of a sale in a timely manner. Painting the exterior of your home would make your house more attractive from the outside and will also l increase the sale value of your property.