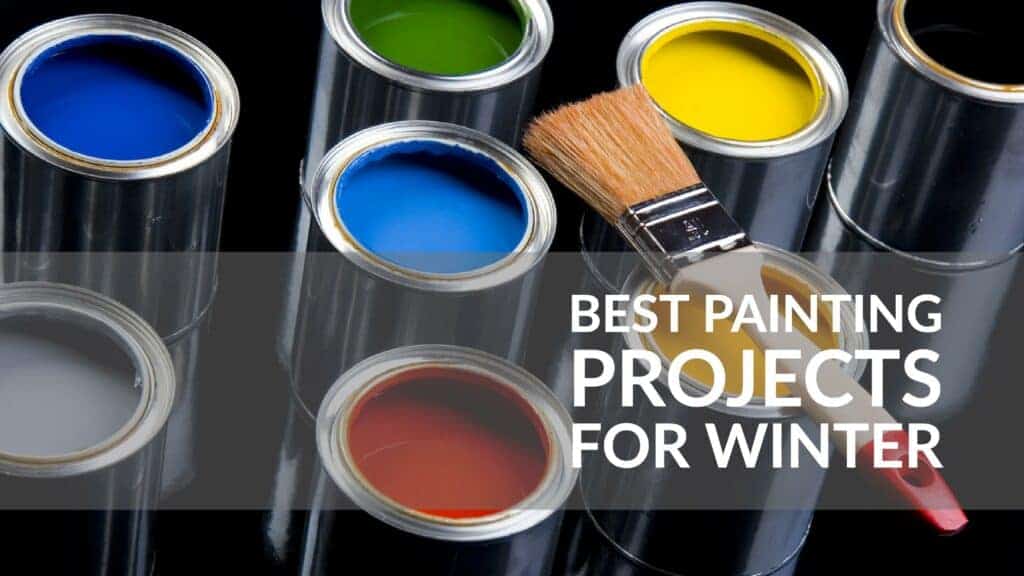 Typically, winter is synonymous with snowstorms, freezing temperatures, and the holidays. Mention of the season typically conjures up images of sled riding with friends, drinking hot chocolate by a roaring fire, and bundling up in layers of warm clothing. An activity that is not typically tied to winter is any type of home improvement, perhaps due to the unwelcoming weather. However, winter is actually the perfect time to tackle any painting projects, both interior, and exterior for your home or business. Winter social schedules tend to be less busy than summer, simply due to the unpleasant temperatures and limited options for outdoor activities. In addition to your freer schedule, painting contractors and companies tend to have more availability as well, thanks to people's belief that winter home or business improvement is impossible. While this is not the case, others might have no idea where to start in terms of what improvements to make to their home. Lucky for you, we have the finger on the pulse of this winter's painting trends.
Paint in winter
While many people opt for summer painting projects, painting the interior or exterior of your home or business could actually be a quicker process in winter. Because of the humidity in the air during the summer, it can sometimes take paint longer to dry, thus lengthening the process. However, the cold, dry air of winter actually speeds up the drying process, as no extra moisture is added to the paint.
Moreover, some might think it impossible to paint the exterior or your home or business during the winter months. However, as long as the temperature outside is above 35 degrees, painting the exterior of a building is totally doable. In addition to the temperature requirements, you also must allow sufficient time for the paint to dry. For example, don't begin painting the exterior of your home or business right before the sun sets. It takes ample time to paint an exterior, and you have to allot time for the paint to fully dry before temperatures drop.
Paint project ideas
This winter, take advantage of your freer schedule and tackle the exterior or interior paint project you've been thinking about. Topping off the list of popular colors is a spruce blue, which is a calming, pleasant color that would make a wonderful backdrop for a kitchen or living room. In addition to this blue, darker colors are all the rage heading into this winter and the first few months of 2018. Wintery blues and grays, as well as a dark forest green, have been making a splash throughout 2017, and they don't seem to be going anywhere just yet. With this in mind, try out one, or many, of these colors in your home or business. If you are unwilling to commit to an entire room, opt for an accent wall in one of these colors. Not only is it an easy project to undertake, but it is a surefire way to brighten up any room.
If you've been planning on revamping the outer appearance of your home or business, now is the time to do it. Heading into winter and 2018, one large, but manageable, project to undertake is switch up the paint on your door. One big trend this past year is contrasting door and building colors. This trend is the perfect opportunity to paint your door a fun, bright color to liven up the gray, winter days.

Here is a list of some of the most common winter interior painting projects:
Create a gallery wall with painted frames
Paint your front door a bright color
Paint your bathroom tiles
Create a mural in a child's room
Paint a statement wall with a bold color
Paint your staircase with a unique design
Create a faux brick wall
Paint a piece of furniture
Paint a mural on your garage door
Paint your window trim and sills
Paint your ceiling a different color than your walls
Paint your mailbox to add curb appeal
Frequently Asked Questions About Painting in the Winter
Can you paint the exterior of a house in the winter?
Yes, it is perfectly ok to paint the exterior of a house in the winter, but it's important to choose the right paint that can withstand the colder temperatures. It's also important to consider the weather forecast and avoid painting when it's too cold, wet or snowy.
Can you paint indoors in the winter?
Yes, it is fine to paint indoors in the winter, but it's important to make sure the room is properly ventilated and to consider the temperature and humidity levels. Cold temperatures and high humidity can affect the drying time and the overall finish of the paint.
Should you use a different type of paint in the winter?
Yes, it's recommended to use a paint that's specifically designed for colder temperatures and can dry at a lower temperature. Avoid using water-based paint when the temperature is near freezing, as it can freeze and affect the overall quality of the paint.
How can you prepare the surface for painting in the winter?
Before painting in the winter, it's important to make sure the surface is clean and dry, free from any moisture or frost. You should also consider using a primer that's designed for cold temperatures, as this can help the paint adhere better to the surface.
What are some tips for painting in the winter?
Some tips for painting in the winter include choosing the right paint, checking the weather forecast, painting during the warmest part of the day, keeping the room well-ventilated, using a heater to maintain a consistent temperature, and allowing extra time for the paint to dry.
Last Updated: May 6, 2023